Today is Friday and here are your links on human-caused earthquakes, induced aseismic slip, typesetting costs, flash flood video footage, and more!
6 Facts about Human-Caused Earthquakes
The USGS wrote a Science Features Top Story about human-caused earthquakes, where they shed light on many public questions and misconceptions: "How does the observed [seismicity] increase relate to oil and gas production activities? Does this connect to fracking—more formally known as hydraulic fracturing? What exactly is fracking? What are induced earthquakes?"
Seismicity triggered by fluid injection–induced aseismic slip
And speaking of earthquakes and human causes, read this Science paper on induced aseismic slip. Guglielmi et al. monitored a controlled fluid injection into an inactive fault, which induced aseismic slip, which again triggered small earthquakes.
Abstract: Anthropogenic fluid injections are known to induce earthquakes. The mechanisms involved are poorly understood, and our ability to assess the seismic hazard associated with geothermal energy or unconventional hydrocarbon production remains limited. We directly measure fault slip and seismicity induced by fluid injection into a natural fault. We observe highly dilatant and slow [~4 micrometers per second (μm/s)] aseismic slip associated with a 20-fold increase of permeability, which transitions to faster slip (~10 μm/s) associated with reduced dilatancy and micro-earthquakes. Most aseismic slip occurs within the fluid-pressurized zone and obeys a rate-strengthening friction law with v0 = 0.1 μm/s. Fluid injection primarily triggers aseismic slip in this experiment, with micro-earthquakes being an indirect effect mediated by aseismic creep.
How much does "typesetting" cost?
SV-POW tried to shed some light onto the costs of publishing papers and focuses on the typesetting part. Also read the comments!
We as a community often ask ourselves how much it should cost to publish an open-access paper. […] We know that peer-review is essentially free to publishers, being donated free by scholars. We know that most handling editors also work for free or for peanuts. We know that hosting things on the Web is cheap. […] So: what does it cost to typeset a manuscript?
Read more
CEJG is now Open Geosciences – no fees in 2015
Speaking of publishing costs, I was just reminded to update my Google Scholar profile. And one suggestion was to rename the Central European Journal of Geosciences into Open Geosciences. As I found out, Springer ceased to publish this journal by the end of 2014. De Gruyter now publishes this journal on all fields of earth sciences. Open Access – and without publication fees in 2015.
Video footage of a flash flood in southern Utah
After heavy rainfalls north of Lake Powell, Utah, this flash flood was filmed on June 6th by David Rankin:
NASA releases detailed global climate change projections
In a press release from Tuesday, NASA introduced These projection data shows how temperature and rainfall patterns worldwide may change through the year 2100 because of growing concentrations of greenhouse gases in the atmosphere. The dataset is available to the public and shows projected changes worldwide on a regional level.
(HT EGU on Twitter)
Summer School on Geomorphology
Sediment Dynamics in high-mountain Environments
This summer school from 31 August to 06 September, organized by Jan Blöthe (University Bonn), David Morche (University Halle)
Sabine Kraushaar and  Ronald Pöppl (University Vienna), will take place in the Kaunertal Valley, Austria, where hands-on field learning will be combined with data analysis workshops at the interface between geosciences, hydrology, physics, and biology. PhD students, graduate students and post-docs should apply until June 25, 2015. All accomodation, participation and travel costs will be covered by the Volkswagen Stiftung.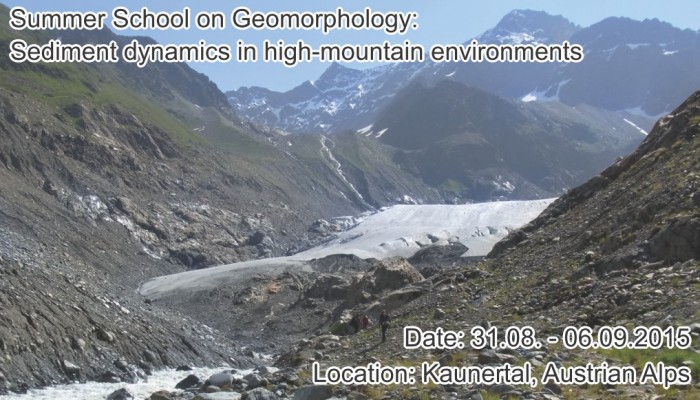 And here are some of my Twitter favorites:
https://twitter.com/TTremblingEarth/status/609284175494053888
Have a great weekend!